Sheetrock Hanging
The overall finish of your walls, starts with the Sheetrock installation. Before Sheetrock is put on the wall/ceiling the framing is thoroughly inspected. What the Sheetrock installers (Hangers) are looking for is badly crowned stud, crooked studs and walls that are over insulated. when we find these issues they are addressed immediately. We do not cover them up. By not addressing these issues prior to Sheetrock install will result in crooked walls and drywall screws popping. At Dakota Custom Drywall and Paint we take the extra time to fix the issues. We can fix them in a different way depends on the situation. One way we fix the problem is by using butt shims or V notching studs to straighten them and then putting patch framing on either side to reinforce cut studs. Another way we take care of the issue is that we may have to pull out the wood planer and shave the stud down. In all DCD&P cares about is that your walls/ceiling stay beautiful for the life of your home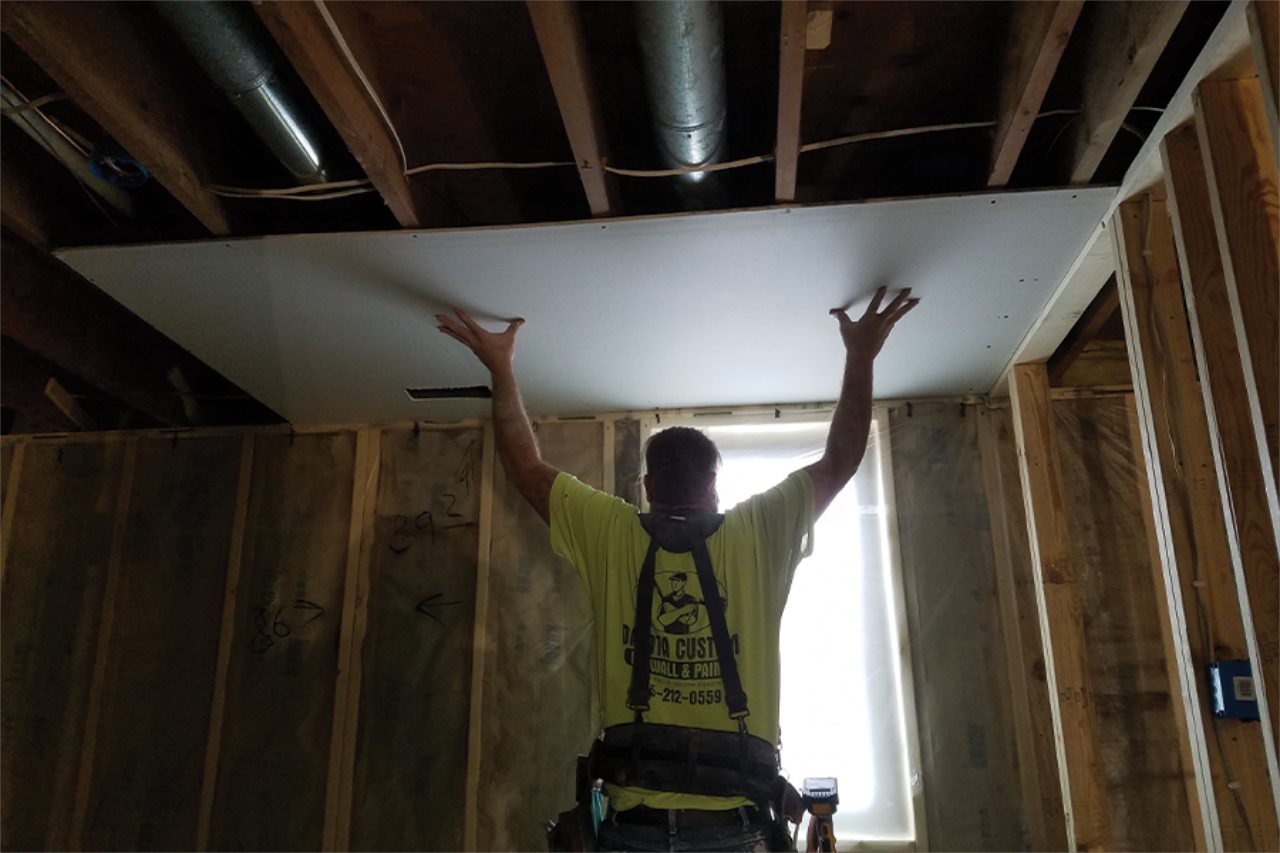 Taping
DCD&P taping process begins with what we call cut and prefill. This means that we inspect every piece of Sheetrock for loose, broken, large gaps, or detached paper with broken Sheetrock under it. (Blowout) We inspect all electrical boxes to ensure no blowouts have occurred around the boxes. When we find any of these blowouts they are cut out and prefilled with mud and taped. Taping process begins with all wood (OSB) floors covered with paper concrete floors are scraped. Taping of all joints at angles is done with paper tape (non mesh) and adhered to the wall with light weight taping mud, providing highest glue content for maximum adhesion. The same mud is also used to install your paper faced corner bead (crack proof) when having to use Vinyl bead (cham fried bead\Archway). DCD&P will mesh tape all bead edges to make certain no future cracking. DCD&P also goes a step further by caulking all tops, miters and baseboard attachments prior to texture. For all off angles and vaults, ultra flex is mudded on for perfectly straight lines. Mudding of joints is done with light weight mudd. Consistence of two coats over all joints and bead and an additional third coat over butts and screws. Each job is unique and each situation demands on the spot decisions to insure that your walls\ceiling turn out the best they possibly can.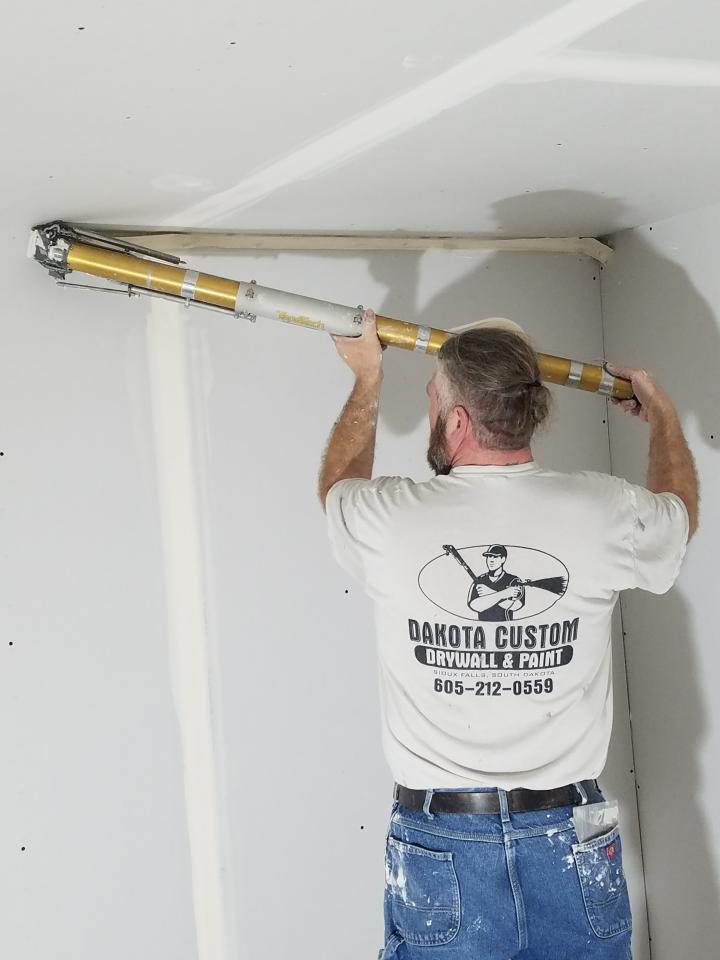 Texturing
We are proud of the reputation we've built upon consistent, repeatable results. And, we are proud that many of our previous clients continue to come to us with new projects. We treat every project as an opportunity to earn your recommendation and your continued business. Our team is highly motivated to make sure your project is successful and you can continue to apply solutions to continue to seek further growth, success, and exceed your goals. We do this with a consistent application of best practices and experience in the industry to ensure results are repeatable each time.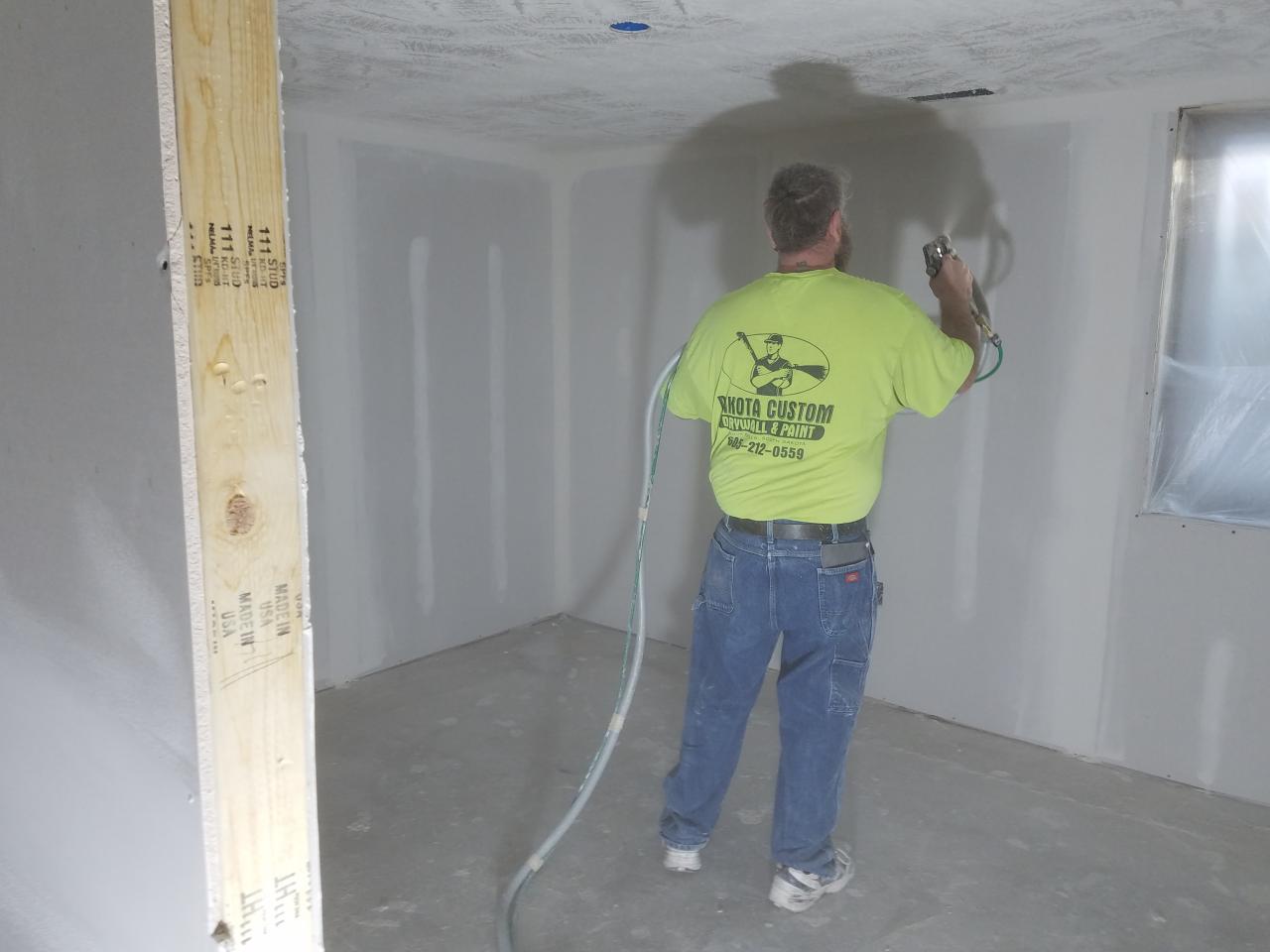 Interior Priming and Painting
Dakota Custom Drywall And Paint LLC offers full-service interior painting services. Our motivated teams are ready to prep your space before painting. We will mask and tape fixtures and trim, cover flooring and furniture, and protect other features in your home or business to ensure your new colors only go where you want them. Everything we do is in the pursuit of delivering a beautiful, professional space for you and your family, customers, and employees to live, work, and enjoy.